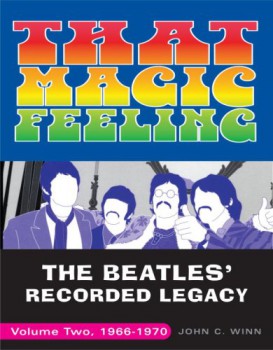 From Revolver to Let It Be, That Magic Feeling: The Beatles Recorded Legacy, Volume Two, 1966—1970, continues the chronicle of the group's spectacular career from its creative zenith to its irrevocable split.
As the Beatles moved into the mid- and late 1960s, their collective and individual musical talent and innovations evolved at an unparalleled pace. Like its companion volume, Way Beyond Compare: The Beatles' Recorded Legacy, Volume One, 1957—1965, this unique work thoroughly chronicles all known and available Beatles recordings during this period of incredible creative growth.
Have you ever watched a Beatles film clip and wondered:
• Where was that filmed?
• Is any more of that footage available?
Have you ever heard a Beatles interview and asked:
• When was that taped?
• Where's the best place to find the complete recording?
That Magic Feeling answers these and thousands of similar questions. With more than 500 entries, it includes recording sessions, concerts, newsreel footage, press clips, TV and film performances, home movies, radio interviews, documentaries, studio outtakes, home demos, and alternative mixes–all of which are given complete coverage for the first time.
Author John C. Winn has spent two decades poring over, scrutinizing, organizing, and analyzing hundreds of hours of audio and video recordings and compiling them into a digestible chronological framework, creating the ultimate reference guide to the Beatles' legendary musical and cultural evolution.
Mission: video research
Three Rivers Press
ISBN : 978-0-3074-5239-9
Published: January 2004