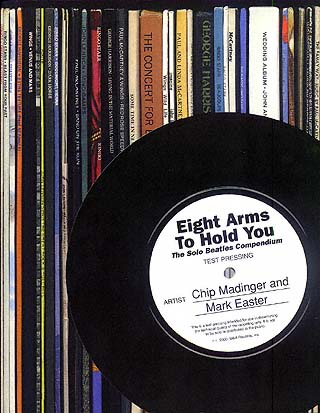 Eight Arms To Hold You: The Solo Beatles Compendium is the ultimate look at the careers of John Lennon, Paul McCartney, George Harrison and Ringo Starr beyond the Beatles. Every aspect of their professional careers as solo artists is explored, from recording sessions, record releases and tours, to television, film and music videos, including everything in between. From their early film soundtrack work to the officially released retrospectives, all solo efforts by the four men are exhaustively examined.
Not only are John, Paul, George and Ringo's official projects investigated in detail, along with the events surrounding their recording and release, but the best available sources for each are specified. This same approach is used to profile the unissued recordings and performances by all four – both bootlegged and in private circulation. In short, this is the reference guide that Beatles collectors have been waiting for decades!
Over the past twenty years, noted Beatles authors Chip Madinger and Mark Easter have done extensive primary and secondary research to ensure that no fact has gone unchecked, and no myth has gone unprobed. The result is this massive 700-plus page work, the scope of which has never previously been attempted.
Mission: proofreading (in English)
44.1 Productions
ISBN : 978-0-6151-1724-9
Published: October 2000